Fall 2021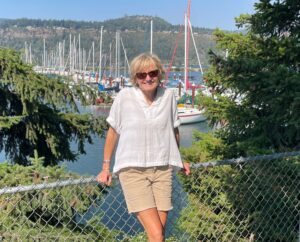 Putting this issue together has brought with it a sense of déjà-vu. The last time we produced our annual Arts Issue, where we feature the Gorge Artists Open Studios Tour, was in the spring of 2020. We were blissfully ignorant, as we worked on it during the months prior, that the world was about to change. But I have a distinct memory of standing in the noisy press room at our printer in Salem late that February, watching magazine pages churn off the giant press, and feeling a sense of unease about this new thing in our collective midst, the coronavirus. Still, we were excited about our new issue — the biggest one in our nine-year history. We couldn't wait to get it out into the world, and at that point it was still easy to push apprehension aside.
We got the magazine back from the press a few days later and it hit newsstands on March 6. Within days, Oregon and Washington had declared a state of emergency, followed quickly by The Big Shut Down, with restaurants and retailers closing indefinitely.
Like so many other events, the Open Studios Tour, slated for late April, was cancelled for the first time since its launch in 2006. The Gorge Artists, a nonprofit group that works to support artists in the region, rescheduled, and then rescheduled again. The tour will now take place in September, the first time it hasn't been a springtime event. The whole situation — from the initial disappointment to ongoing uncertainty to the resilience of the artists and the eventual retooling of a longstanding tradition — has become commonplace over the last year and a half. With so many talented artists in the Gorge, the tour promises, as always, to deliver what it's meant to: a wonderful opportunity to meet artists in the places where they create their work. We're excited for the return of this beloved event, and offer a preview starting on page 37.
Over these last 18 months, despite many challenges, so many people and businesses have just kept doing what they do. One is Stevenson-based veterinarian Bob Bussa, who specializes in end-of-life pet care (page 8). Another is Hood River-based creative studio Story Gorge, whose talented filmmakers and educators aim to make positive change with their visual storytelling. They've doubled down on their social enterprise mission during the pandemic and started a community fund to support worthy causes (page 12).
Our fall issue wouldn't be complete without some autumn color, and for that we head to Dry Creek Falls. This hike near Cascade Locks rewards with swaths of yellow and orange foliage from the big-leaf maples along the trail (page 20).
We hope you enjoy this issue, and may your fall be filled with color. Cheers.
— Janet Cook, Editor