Summer 2021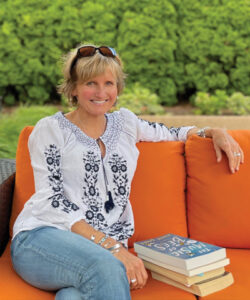 I first met Mark Chamley at Shortt Supply in Hood River a few years ago when I stopped in to get a new pair of running shoes. I picked my usual shoe off the display rack — I'd been wearing the same brand for years and knew what I wanted — and Mark came over to help me. We chatted about running, about how far and how often and where I usually run — trail or pavement — and he suggested a different shoe. I stared blankly at him, but he just smiled and said he'd bring out my usual shoe and the other one, just in case I wanted to try it on.
Suffice it to say I wound up with the other shoe and it changed my middle-age running life. Prior to that, I'd been running only every other day or two in order to rest my aching knees (and a nagging pain in my hip) in between. I figured it was the price of decades of running and that I would just be paying it until I couldn't run anymore at all. Instead, those shoes practically eliminated my discomfort. I'm on my sixth or seventh version of that shoe now, and I run almost every day — pain-free.
It turns out Mark Chamley knows his stuff when it comes to running. He checked off goal after running goal throughout his 20s and early 30s — including knocking off a sub-3-hour marathon — and eventually turned to trail running for a new challenge. It wasn't long before he was hooked on ultrarunning, which he's now been doing for 35 years. This summer, a few weeks after he turns 68, he'll be the oldest participant at the starting line of the Tahoe 200 Endurance Run, a 200-mile race around Lake Tahoe. Writer Cate Hotchkiss profiles Mark beginning on page 10. His endeavors make my daily few miles seem paltry, but he's inspiring — and I'm thankful for his advice every time I lace up for a run. Good luck at Tahoe, Mark!
There's plenty to do in the Gorge this time of year — especially as things continue to open up after a year of pandemic restrictions — but be sure to work into your schedule some time for a good book. Actually, several of them. We take a look at six Gorge writers who have recently had books published, beginning on page 42. Their works span multiple genres and diverse topics, and all are worthy of a read.
You'll find an array of other interesting stories in this issue, including a feature on a sheep ranching couple in Goldendale (page 14), an essay on the joys and life lessons of beekeeping (page 22), and a story on CultureSeed, a nonprofit working to help underserved youth thrive through outdoor immersion and mentorships (page 64). Enjoy, and have a great summer!
— Janet Cook, Editor