Spring 2022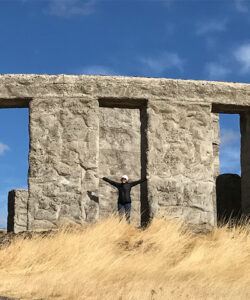 The first time I saw the Stonehenge Memorial, perched above the Columbia River in the eastern Gorge, I was on my way to central Washington with friends for a concert. As we drove up Highway 97 past Maryhill State Park, we pointed and exclaimed at the strange sight to the east. This was before smart phones, so we had no way to instantly find out what it was and why it was there. Instead, we doubled back and drove to the monument to have a look.
It was, to be frank, surreal. With no context, and little signage, we had no way of knowing its significance beyond that it was meant to be a war memorial. And why a replica of the prehistoric site in England? We failed to see the connection. To add to its oddity, the memorial was showing its age, with rusted rebar protruding from the concrete columns, many of which were marred by graffiti. But it made an impression. We stopped there again on our way home the next day.
Not long after my initial visit, Stonehenge underwent a renovation of sorts, the columns repaired and graffiti removed. Awareness of the unique memorial grew as the Maryhill Museum — which the monument is part of — landed on the region's collective radar. Now, the Stonehenge Memorial has been added to the National Register of Historic Places, cementing its preservation and significance as a historic site. We delve into the story of the memorial and how it came to be — including its connection to the original — starting on page 14.
The man behind Stonehenge, Samuel Hill, plays a role in another story in this issue. Among his passions was advocating for good roads, and he was largely responsible for the vision and eventual construction of the Columbia River Highway, beginning in 1915. Over the past 25 years, the historic roadway has been restored in sections — much of it drivable, some of it open only to foot and bicycle traffic. The last few miles remaining to connect the entire 73 miles from Troutdale to The Dalles traverses the site of the long-ago-destroyed Mitchell Point Tunnel a few miles west of Hood River.
Now, work is underway on a new tunnel through Mitchell Point. When it's completed next year, the tunnel will bring back to life one of the most iconic sections of the historic road — complete with five arched windows overlooking the river, just like the original. We take a look at the project, along with some history of the highway, starting on page 38.
You'll find lots more in this issue, including a special Home + Garden advertising section in case you're looking for help with those home improvement projects. Good luck with them, and have a great spring!
— Janet Cook, Editor