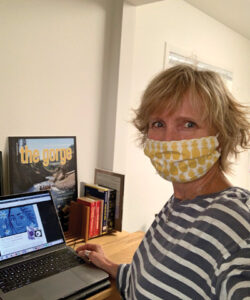 Fall 2020
After a very strange spring and an altogether different summer, we head into what will surely be another odd season of this unprecedented year. By now, we all are used to the things that have come with it. We mask. We wash hands. We stand apart. We elbow-bump. We Zoom. We order take-out. We pick up curbside. And so our pandemic year continues.
While many of us have real disappointment to contend with in this year of cancellations and missed milestones, there are others for whom the pandemic has brought more serious consequences. Simultaneously, the safety net of nonprofits usually here to help those in need also took a big hit — to budgets and supplies, among other things. Enter United Way of the Columbia Gorge. This stalwart organization, which has been supporting vital nonprofits in the Gorge for decades, became a lifeline this year. UWCG partnered with the Healthy Gorge Initiative to create the Covid-19 Gorge Community Response Fund, which has made it easy for nonprofits to apply for emergency funding — and receive it quickly in order to keep helping those who need it most.
The fund and its work goes on; so far, more than $300,000 has been contributed from generous individuals and funding partners; more than half has been allocated to over two-dozen nonprofits so they can continue their vital work during these challenging times. It's a story of ingenuity, teamwork and compassion. It's what we do in the Gorge when the going gets tough: we innovate and we help one another (page 42).
With wildfire smoke blanketing the Gorge as I write this, the work being done at the Little Seven Seven Ranch near Lyle, Wash., seems particularly relevant. Ranch owners John Streur and Mary Kleihege have been working hard over the past few years to minimize wildfire risk through fuels reduction on their 1,700-acre property. They raise Highland cattle there, and have done intensive clearing of brush and tree-thinning on more than 400 acres so far (page 24).
Other stories in this issue include a piece about a collaborative effort to save the endangered western pond turtle (page 34), a story about 15 Mile Winery in The Dalles (page 18), and a look at Gorge-area high school grads and how they're adapting to changed plans this year (page 30). "Changed plans" seems like an apt phrase to describe many things these days. But I'm heartened by the resilience and goodwill I've seen in big and small acts every day in the Gorge. We'll get through this by sticking together. Just not closer than six feet, please.
—Janet Cook, Editor